About Maxine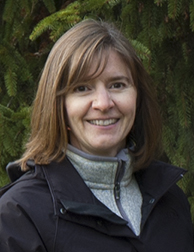 Maxine Wolodko was born in Edmonton and raised in rural Alberta. She has been drawing and painting since childhood. Influences of her rural upbringing can be found in her paintings of farms, fields and community. Maxine earned a Bachelor of Fine Arts Degree at the University of Alberta. She now lives in Vancouver with her husband and two children. Maxine is an active member of the Federation of Canadian Artists and shows her artwork in various galleries, shops and restaurants throughout Vancouver and surrounding area.
Artist's Statement
With my paintings, I seek to capture the simple, beautiful moments I witness in everyday life. A walk through my neighbourhood, a drive in the country, or more distant travel provides me with plenty of inspiration for painting. Painting is my way of fully appreciating these ordinary moments before they can slip away and be forgotten.
Being outdoors stimulates ideas. I am most drawn to scenes/situations where nature has been composed, utilized, adorned or embellished in some way. I am inspired by such things as farms, fences, gardens and old buildings. By recording the way things look, I also strive to capture the feeling of the moment.